| | | |
| --- | --- | --- |
| | | |
| | | |
| | | |
Dear Applicant:
It is that time of year again when the John J. and Nora Jennings Memorial Scholarship is opened and is now accepting applications for 2017. We encourage you to apply and we look forward to reading all applications and 2017 essays. This information has been posted to PFFM.org for your convenience and our application and 2017 essay can be downloaded from the PFFM's website as well. The Jennings Scholarship Committee will provide eight 2,500.00 scholarships to children (biological and adopted) of active, deceased or retired members of the Professional Fire Fighters of Massachusetts who are currently enrolled or will be attending any College, University, Graduate or Post Graduate Studies this coming fall. Please mail both your 2017 essay and application to the below address and must be postmarked no later March 31, 2017: John J. and Nora Jennings Scholarship Committee 33 Lennon Court Unit 37 South Boston, MA 02127 Only the 8 recipients of the John J. and Nora Jennings Memorial Scholarship will be notified by mail in April 2017, and will be honored at a dinner in May by both the Jennings Scholarship Committee and the Jennings Family.
Good Luck and God Bless. Joan M. Jennings
Download:

2017 Jennings Scholarship Application.pdf
Brothers and Sisters,
Local 30 will be hosting EMT/Paramedic NCCR Refreshers at the Marsh Post from 8am-5pm on Monday 1/23 - Thursday 1/26. Cost will be $50 per day or $150 for all days.
The following are the schedules for the NCCR Refresher for BOTH ALS and BLS.
All modules are approved for NCCR credit for ALL levels, with the exception of Module 4 (ALS providers only).
All classes will be taught at: American Legion: Marsh Post 5 Greenough Blvd Cambridge, MA 02138
1/23/2017 (Monday)
1/24/2017 (Tuesday)
1/25/2017 (Wednesday)
1/26/2017 (Thursday)
Module 1 and 2
Module 1: 08:00-12:00 Module 2: 13:00-17:00
Module 3 and 4
Module 3: 08:00-12:00
Module 4: 13:00-17:00 (ALS only)
Module 5 and 6
Module 5: 08:00-12:00 Module 6: 13:00-17:00
Module 7
Module 7: 08:00-13:00
For further information, see attached outlines (BLS Flyer will be added soon) or Contact FF Bryan O'Neil.
Thank you
Download:

ALS Outline.pdf ,

BLS Outline.pdf ,

ALS Flyer_2017.pdf
ATTENTION RETIREES
This year's CFD retiree reunion will be
Saturday February 18, 2017 @ 1PM
The location will be at Kenny O'Connor's
1424 SW 54th Terrace
Cape Coral, Florida 33914
Telephone: (339) 222-2040
Hello IAFF Local 30,
In support of American made, union made work boots, please share this 27% off union member discount code with your members. Our Thorogood work boots are made in Central Wisconsin by UFCW Locals 688 and 717. You can find a link to
TheUnionBootPro.com
on the bottom page of the
AFL-CIO
main website by scrolling left and right.
Here
is a link to our firefighters boots.
Please share this code with your members via your website, newsletter, Facebook, Twitter, etc. Post a link to
TheUnionBootPro.com
on your website. Check out our
media kit
for union hall materials.
.
Ff0030mD
"There's a simple solution - Buying American. Employs Americans."
*Get 27% OFF

our suggested retail price, 24/7, 365 days a year

…

either as an active or retired union member.
No annual renewal required, discount good for life. Union member savings will vary depending on the boot purchased.
Discount offered ONLY on our selection of American-Made, Union-Made, work and uniform boots available
We feature Thorogood™ footwear MADE IN USA by the Weinbrenner Shoe Çompany - one of America's oldest
manufacturers of quality constructed, handcrafted, job-fitted safety work boots.
Please be sure to check out this
link
for our Canadian customers. Email me if you are interested in promoting American made, union made work boots to your local members.
Lynda McLaughlin
Union Relations Manager
TheBootPros LLC
1-800-723-5384 toll-free
As your readership knows, on Dec. 3 the residents of the Wellington-Harrington neighborhood experienced a terrible disruption in their lives, and a significant loss of property as the result of a 10-alarm fire. This fire presented innumerable challenges to the Cambridge Fire Department, and the Members of Cambridge Firefighters Local 30 wanted to take this opportunity to offer our sincere thanks to the hundreds of people who contributed in so many ways to successfully mitigating an enormously challenging event.
First, to our partners in public safety - the Cambridge Police Department, Emergency Communications Center, and Professional Ambulance - who responded with their characteristic bravery, dedication, and proficiency.
To the fire departments from over 25 communities throughout the Greater Boston Area, and to the State Fire Marshal's Office and the Massachusetts Firefighting Academy, who answered our request for mutual aid and worked side by side with us to contain the threat.
To our coworkers from other city departments - Water Department, Public Works, Electrical Department, Inspectional Services, Housing, Human Services, Public Schools, and to Eversource Electric and Gas and the MWRA - who assisted in so many ways to render the scene safe enough for us to work, and worked diligently to re-establish services for the residents and businesses affected by this tragedy.
To the Boston Sparks Association, Providence Canteen, and American Red Cross who provided so much comfort to us throughout the long, cold, wet, windy night.
To citizens and businesses who generously provided food during the incident, and all those who offered a kind word to us on the street in the days after the fire.
And finally, to everyone who donated to the fund to help the victims of this historic event, and to the city administrators and elected officials who coordinated relief efforts in the aftermath.
To each of you, and to any we may have failed to mention by name, we offer our admiration and heartfelt gratitude, and best wishes in the holiday season.
Sincerely,
- Christopher Haynes, president, on behalf of members of Cambridge Firefighters Local 30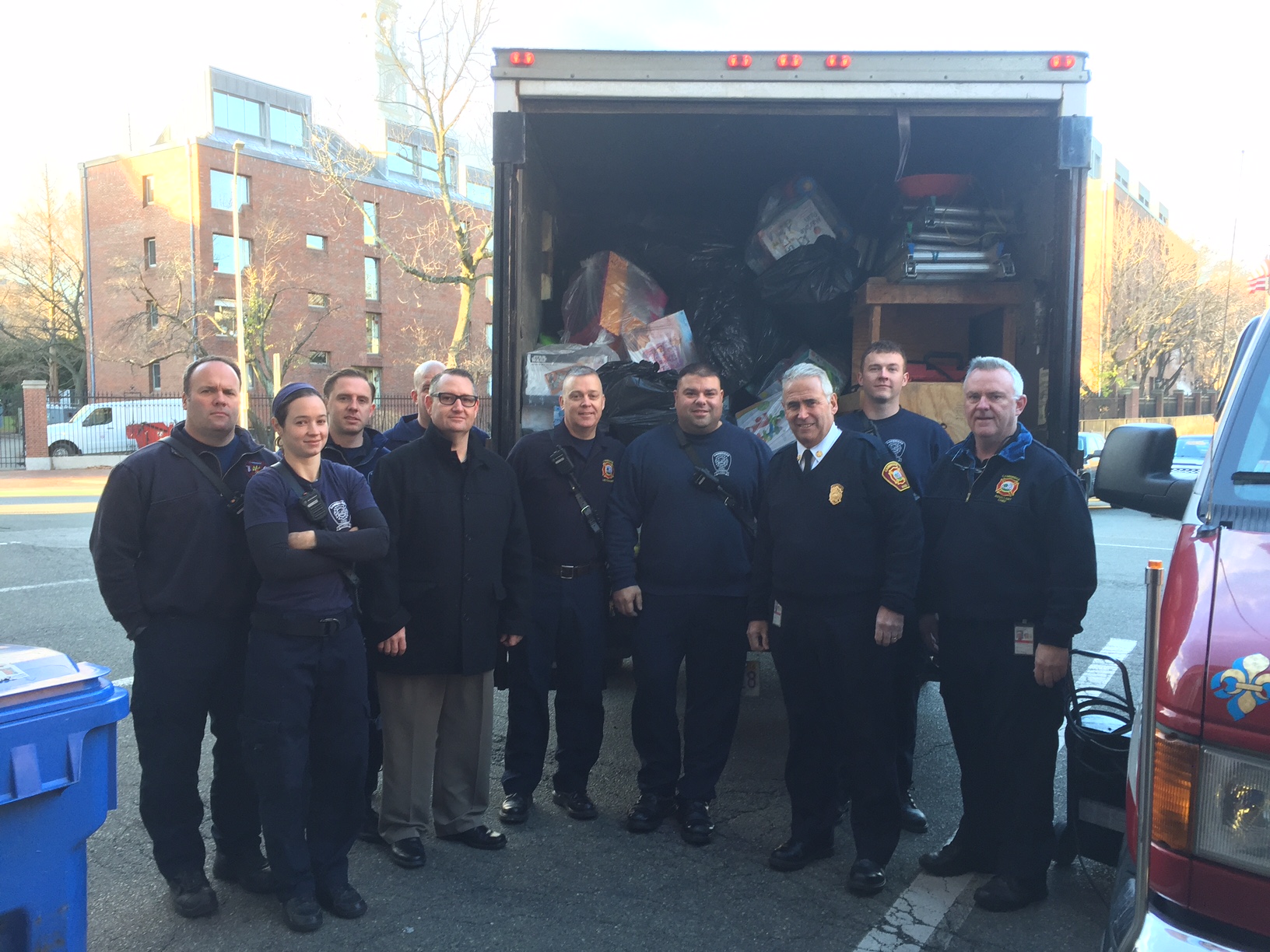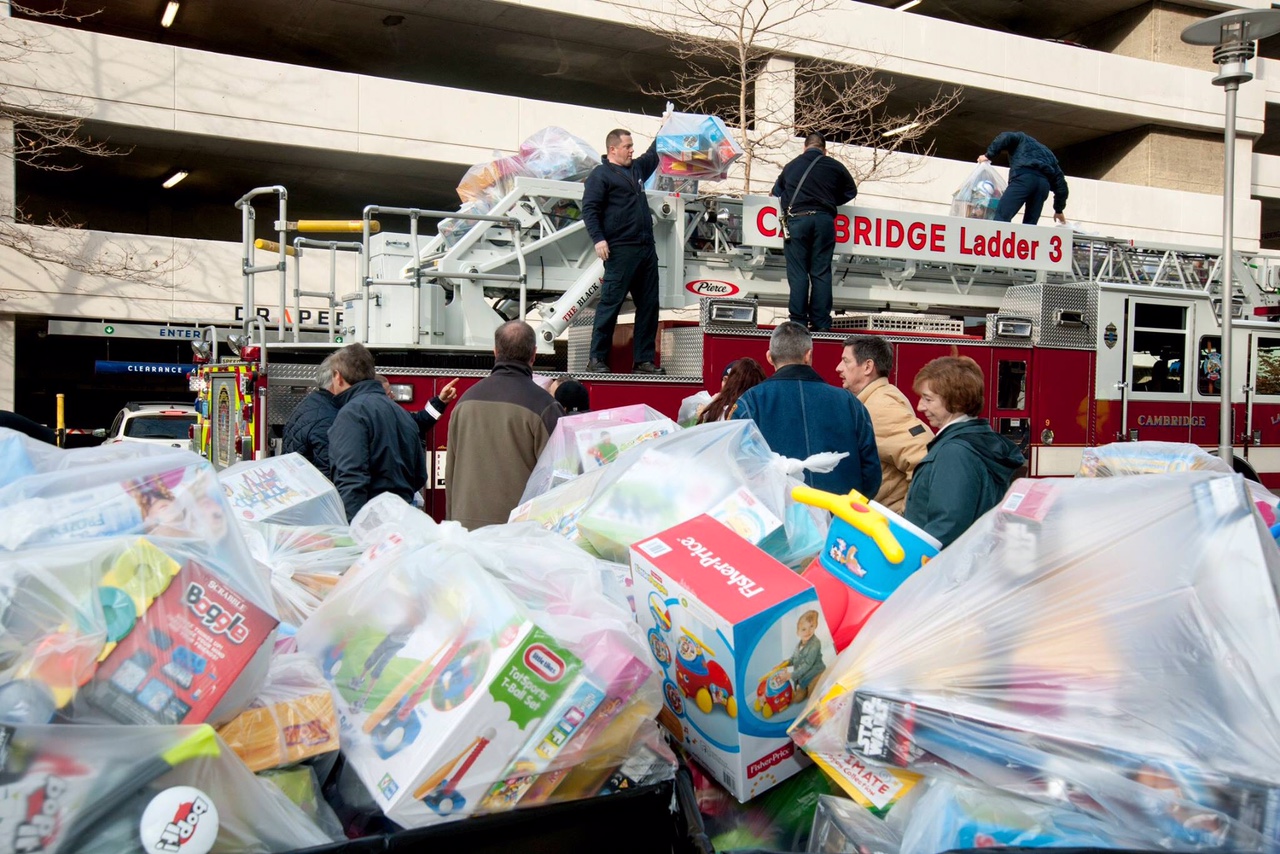 I am pleased to report this year was one of the most successful Toy Drives in recent years. I wish to thank the members of this department for your help as always.
A special debt of gratitude goes to a few Cambridge businesses as well. Draper Labs, CambridgeSide Galleria, PRO-EMS, Andy's Diner, The Mt. Auburn Hospital and others who organized collections within their own establishments.
Any toys dropped off at firehouses from this point on should be delivered to the Salvation Army at 402 Massachusetts Avenue.
As always I am grateful for your cooperation and assistance with this endeavor.
I hope you and your families have a Happy and Safe Holiday Season!
Thanks,
Assistant Chief Gerard E. Mahoney
Cambridge, MA Fire Department
| | | |
| --- | --- | --- |
| | Weather Report | |
| | | |
| | | |