| | | |
| --- | --- | --- |
| | | |
| | | |
| | | |

To: All Executive Branch Employees
From: Ronald J. Arigo, Chief Human Resources Officer
Date: September 5, 2018
Re: ANNOUNCEMENT: Public Service Loan Forgiveness Program (PSLF)
---
As you may know, in 2007 the U.S. Department of Education began offering a Public Service Loan Forgiveness Program for certain federal student loans to encourage people to pursue careers in the public sector and at non-profit organizations.
You may be eligible for this program if you meet the following criteria:
Have at least 10 years of full-time service at the Commonwealth, other government organizations at any level (federal, state, local, or tribal), or qualified non-profit organizations.
Hold certain federal loan(s) requiring more than 10 years to be paid. Some shorter loans can be consolidated and extended to qualify.
Have an unpaid balance after 10 years of repayment. The remaining balance is what may be eligible for the loan forgiveness.
The Employee Service Center can now process requests for employment certification. I would encourage those who may be eligible to pursue taking advantage of this valuable program by filling out the Employment Certification for Public Service Loan Forgiveness Form using the following link:https://massit.onbaseonline.com/CustomServicePortal/Home/FormPublicServiceLoanForgiveness
For additional information, visit the Public Service Loan Forgiveness Program website or call FedLoan Servicing at 855-265-4038.
Brothers and Sisters,
Since our story has made national attention due to social media, Fox News will be covering the poor living conditions throughout our firehouses. Stay tuned today, tonight, and throughout the weekend. Thank you to Local 30, Mayor McGovern and the City Council, City Manager DePasquale, and A/Chief Mahoney for working together to fix this problem.
https://www.firehouse.com/stations/news/21010146/cambridge-ma-mayor-tour-fire-stations-calls-conditions-disturbing
Brothers and Sisters,
I would like to thank the members of Local 30 who took the time out of their busy schedules and came out in support of city of Cambridge policy #154. This policy was put forth by Mayor Marc McGovern and co-sponsored by councilors Mallon & Toomey to improve the living conditions of our eight firehouses. The Council is committed to improving our living conditions.Local 30 thanks the Cambridge City Council and we look forward to working with the City Council and City Manager addressing the long term goal of renovating all eight firehouse .

Chris Haynes
President
Cambridge Firefighters
IAFF Local 30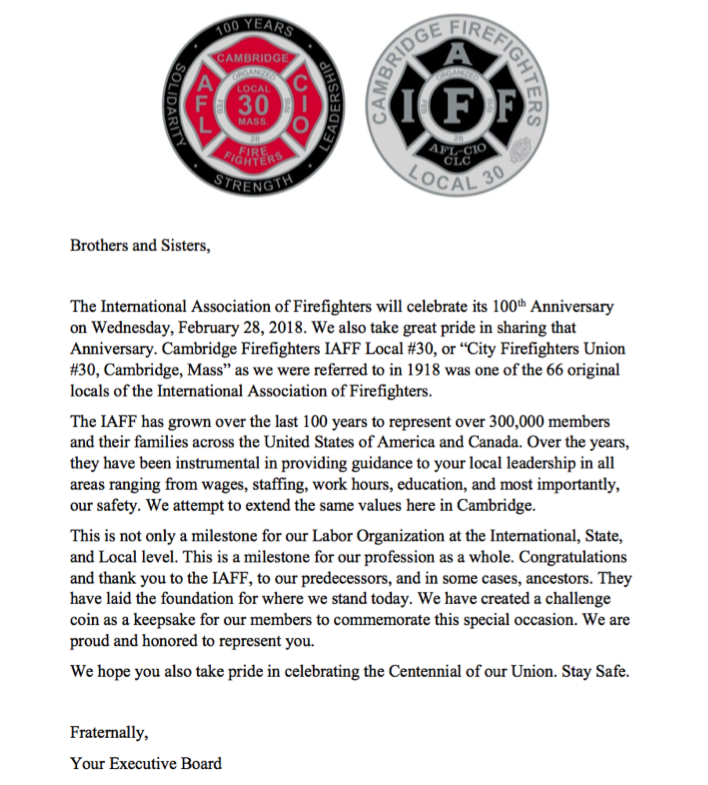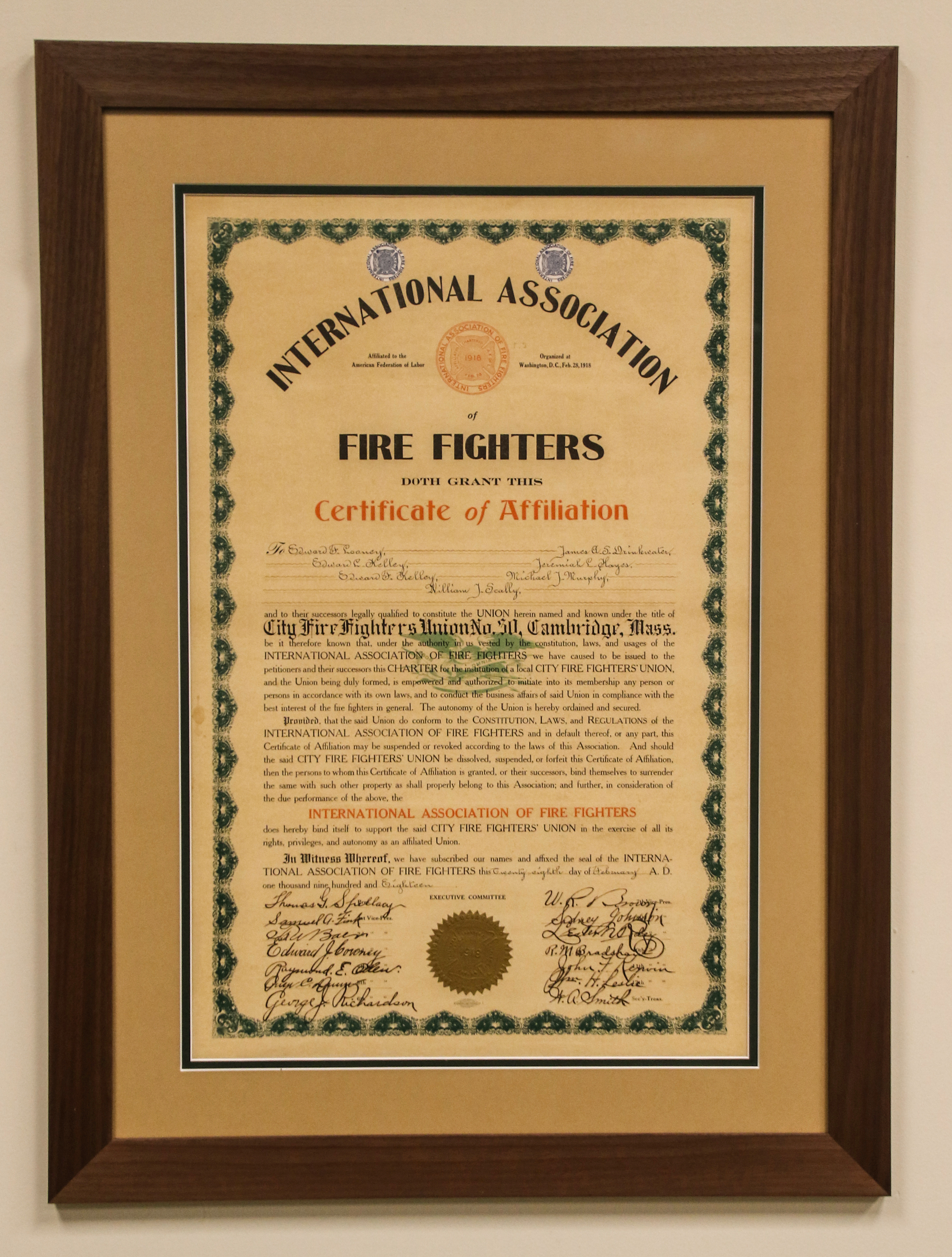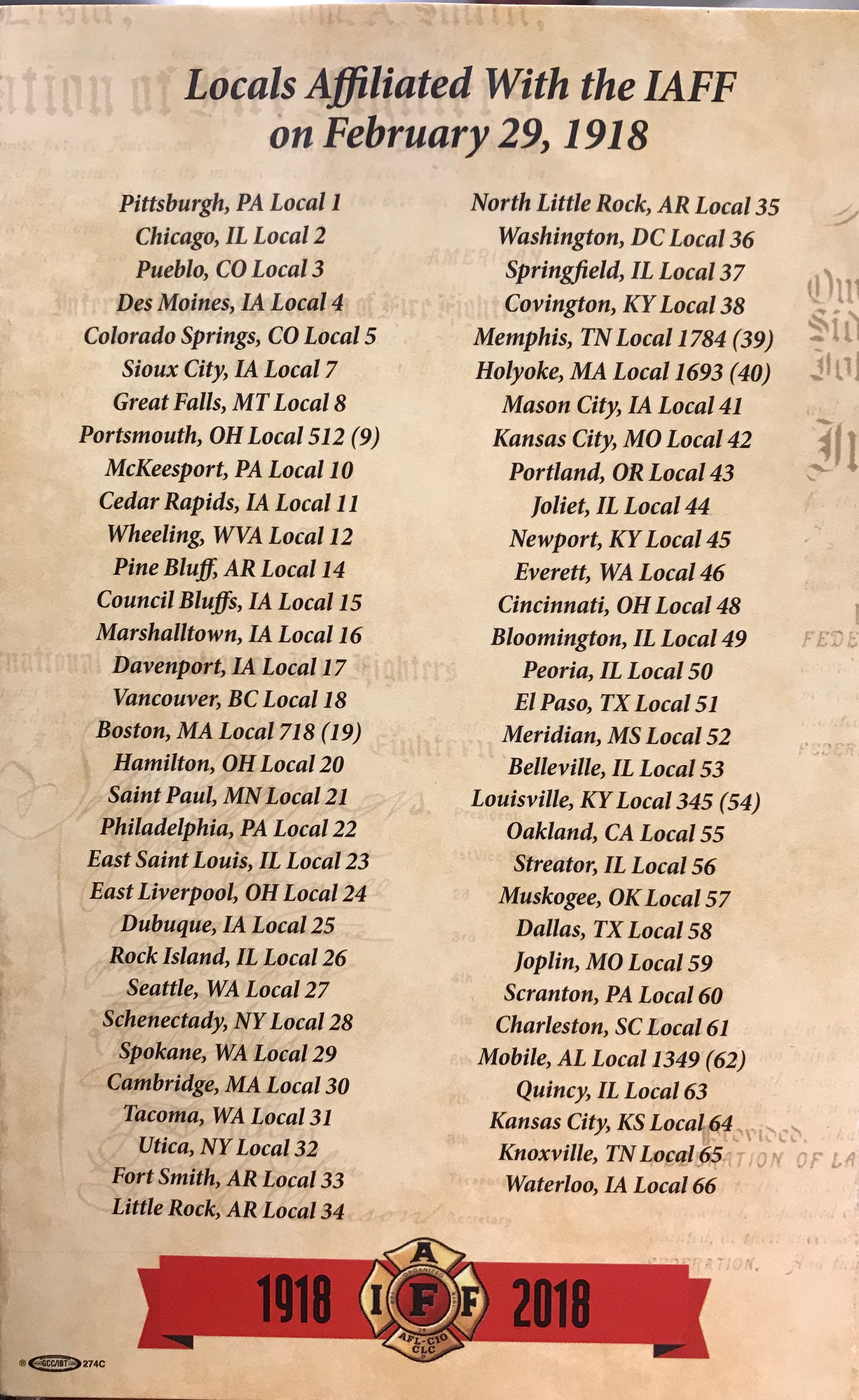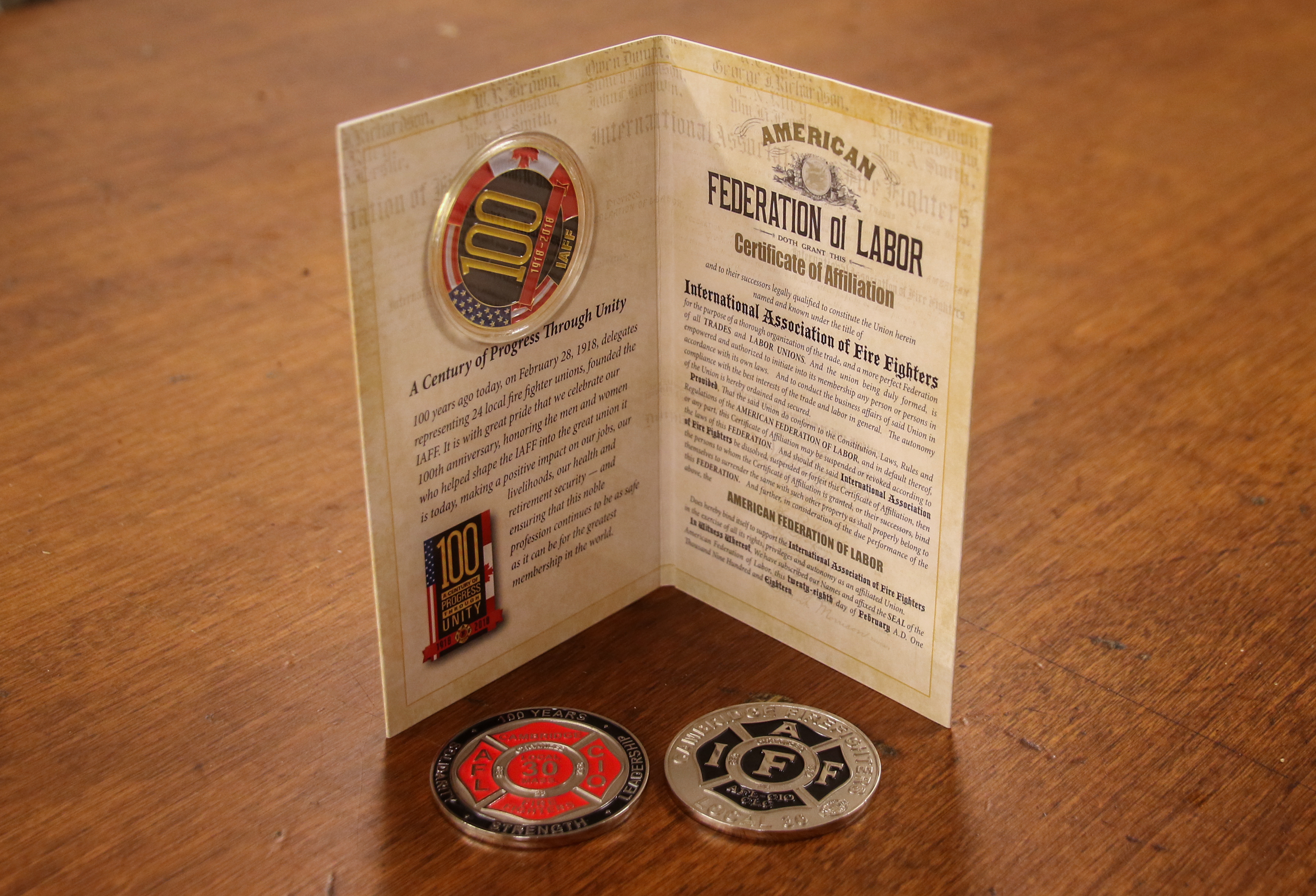 To All IAFF Affiliate Leaders,
We need your help to provide needed emergency funds to our IAFF Disaster Relief Fund.
Over the last several weeks, you've seen our members in action in response to Hurricane Harvey, working around the clock to rescue literally tens of thousands of civilians, while risking their own lives and knowing their own homes were likely damaged or destroyed. And you've also seen this union helping our brothers and sisters in their time of need, providing food and water, direct financial assistance, vaccinations, behavioral health support and whatever else is required to make sure they get through the incident.
And now, with Hurricane Irma moving through Florida, where tens of thousands of our members are in the storm's path, we are again mobilizing a team to be on the ground to support our members with whatever they need. While Hurricane Irma had lost some of its strength as it made landfall, it has brought widespread destruction throughout the state, and our members' needs will be great.
The assistance we provide our members whenever they are displaced from their homes, whether it's from a hurricane, floods, wildfires, tornadoes - any kind of disaster - is possible through our Disaster Relief Fund. That Fund is resourced based on decisions made during conventions, by our delegates, who have properly provided for it to be resourced for normal levels of these kinds of disasters.
But we aren't funded at a level to take on these multiple, unprecedented events like Harvey and Irma. We have to rely on contributions to make up the difference - and that's where this IAFF needs your affiliate's help right now.
I am personally asking you and your local to step up to help our members affected by these devastating hurricanes by donating to the IAFF Disaster Relief Fund as soon as possible.
You can send a check to:
IAFF Disaster Relief Fund
1750 New York Ave, NW
Suite 300
Washington, DC 20006
Our union is able to continue to stand strong for our members because we all pull together in times of need. You know we have your backs, and I know you have ours.
Thank you for your continued generosity and support.
In Solidarity
Harold Schaitberger
General President
ATTENTION RETIREES
For those of you who still visit our website, the Member Log-In was updated to active members only. The reason behind this change was for easier utilization and tracking of the new "Member Resources" notification features on the website and our new mobile app. The majority of the content will continue to be available wihout a password. Some of the non-sensitive items were moved to the main menu and others will have the password protection lifted for your convenience. Use the "Contact Us" form if you're interested in receiving a new login to have access to any specific Member Resources folders.
Thank you for your understanding and we wish you all a long, happy, and healthy retirement!
| | | |
| --- | --- | --- |
| | Weather Report | |
| | | |
| | | |